(10/11/2019)


Have you ever been on vacation at a fancy resort and said to yourself - Man, I could live like this everyday! Well you can! Terre Vista at Citrus Hills is the resort lifestyle you have been looking for. The better news is, it is not just for retirees.
---
(10/07/2019)


There are a lot of fun Fall Festivalscoming up in the area. We have gathered a list of the top events so take a look and mark your calendar.
---
(09/18/2019)


Are you looking for a home that is affordable that does not need a ton of work? Consider homes in Beverly Hills, Fl. Many of these homes are being fixed up and ready for new homeowners to love them. We just listed 2 this week! Check them out!
---
(08/29/2019)


The market in Pine Ridge is smoking HOT so far this year! Nothing but good news for sellers. If you are thinking of selling your home in Pine Ridge, now would be a fantastic time!



---
(07/25/2019)


Looking for a fun way to beat the heat? What better way than to get locked in an air conditioned room for an hour! Crystal River has an escape room where you can have fun with family or have a great team building day with co workers.
---
(07/01/2019)


What a better place to celebrate the 4th of July but in Citrus County. Enjoy watching the fireworks boom over the beauiful water! There are a few fun activities to keep you busy this 3rd and 4th of July in Citrus County. Here are a few of our favorite spots to hit!
---
(05/22/2019)

Every industry has its own jargon. Read on to learn about real estate's.
---
(05/02/2019)

Here's some recent Citrus County restaurant news.
---
(04/23/2019)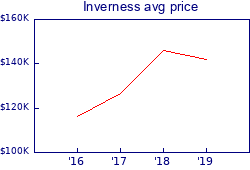 Did you know that home prices in Citrus County are up over 50% over the past 3 years? Our area has been doing quite well, so we figured we'd share some of the data!
---
(11/09/2018)

Veterans Day Parade!

The City of Inverness is proud to invite you to honor our Veterans by hosting the Veteran's Day Parade! The Parade will be taking place Monday November 12th starting at 10am.
---
(10/11/2018)


The City of Inverness and Citrus County have been working hard to make Inverness a great place to live both for current and future residents. Between finalizing the Riverwalk in Crystal River and new plans for Inverness Depot District, here's how you can plan for it to affect you.
---
(09/27/2018)


Check out these fun filled events happening around Citrus County this week. With something going on just about everyday, you'll be sure to find something for everyone in the family and community!

September 28th - This event is a must see fun packed, new, and FREE event at Hunter Springs Park! Come on by the park from 4pm to 9pm and you'll find food trucks, swimming at the beach, Live Music, Games, and after the sun goes down, they'll be playing a movie on the beach! What's not to love?!
---
(09/05/2018)


Come on by the Citrus County Speedway for a chance to win $10,000! The Citrus County Speedway is proudly hosting it's 2nd Annual Full Throttle 100 Super Late Model Race and it's biggest giveaway since reopening August 11th.
---
(08/31/2018)


Celina Hills is located in the desirable community of Citrus Hills right in the heart of Inverness, Florida! Come enjoy the easy life of living right off of Florida's nature coast. This is an established and well sought after community in Citrus Hills. Homes in Celina Hills range in price from $100,000 to $600,000 and vacant lots range from...
---
(08/22/2018)

Come on over to Rooterville in Melrose for a family-friendly tour of this 30-acre farm listed for sale with Savvy + Co. Real Estate. This farm property is currently being used as a farm animal sanctuary for over 300 animals including pigs, goats, and cows. Meet many four-legged friends and a few people, too! We'll be serving food and refreshments and giving away a few prizes.


---
(08/13/2018)


We take pride in helping you find your dream home. Let us help keep it and you protected.
With Hurricane Season (June 1 - November 30) in full swing and it's peak date range coming near from the end of August through mid September, you can never be too prepared for anything that hurricanes may bring your way. Use this handy dandy Hurricane Guide to help you prepare for before, during, and after any storm scenarios. There's also a checklist at the bottom to help you make sure you're all stocked up on supplies! We hope this hurricane season doesn't bring crazy surprises but be sure to hunker down and stay safe and dry in the event that things get hairy!
---
(06/29/2018)


Real Estate Terms made easy:

Home buying and selling can be an overwhelming process. It helps to understand the jargon, especially for first time home buyers. Let's look at some words that your Realtor, Lender, Closing agent, or others involved might throw around to help you follow.

"EMD" short for "Earnest Money Deposit" - When a seller accepts a buyer's offer
---
(06/29/2018)


So maybe you've seen our blogs on Staging, Curb Appeal, or Home Organizing but now let's look at what not to do. Whether you're getting ready to sell or have an active listing that's been sitting, here are some tips to get buyers to find your house more appealing.

Let's start outside: While Curb Appeal and having a manicured lawn are important, surveys show that buyers can get turned off by too many flowers or gardens that appear to be "high maintenance" so when you're sprucing up your yard for buyers, keep it simple...
---
(06/21/2018)


Inverness Golf Estate - Where the luxury of Golf and Country Club living meets the affordability of owning a home in Citrus County Florida. Homes in Inverness Golf Estate were built between the years of 1975 and 2000; they range from 1440 square feet to 2334 square feet and their lot sizes measure at 0.22 acre to 0.32 acre. Living in Inverness Golf Estate gives you the option for membership to the country club which gets you access to the clubhouse, community pool, tennis courts, restaurant, pro shop, and more!


---
(06/21/2018)


New to the City of Inverness! Just in time for Summer Vacation, The Valerie Theater announces "Kids Cinema at the Valerie Theater"! July Kids Cinema, Thursdays at 10:00am

Get out of the hot Florida Summer sun and come watch some kid friendly movies in the comfy seats and air conditioned theater.
---